Catering Menu
Please remember that we can customize a menu for your specific event – so if you are looking for something that you don't see – just ask us! We are happy to accommodate!
Snack Lunches
Choose from a variety of sandwiches or salads
Sandwiches include – chips & chocolate chip cookie or apple $18 each
Salads include – bread & butter $16 each with the exception of the Tuna Poke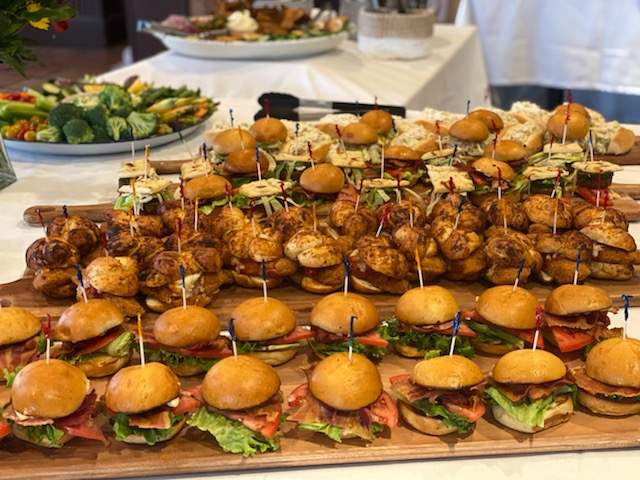 Curry Chicken Salad Wrap
- Sold Out
House made salad w/chicken breast, curry mayo, toasted almonds, scallions & mango jam; w/baby arugula & tomato
Turkey Club
- Sold Out
Turkey, VT Cabot cheddar, bacon, lettuce, tomato, red onion & cranberry mayo on toasted bread
A.B.L.T.
- Sold Out
Bacon, lettuce, tomato, avocado & mayo on toasted bread
Gorgonzola Meatloaf
- Sold Out
House meatloaf stuffed w/gorgonzola, lettuce, tomato, caramelized onions & roasted garlic aioli on griddled bread
Egg Salad & Smoked Salmon
- Sold Out
Smoked salmon, house egg salad, lettuce & tomato on toasted bread
Albacore Tuna Salad
- Sold Out
House tuna salad, lettuce, tomato, pickles on bread or wrap
Falafel Wrap
- Sold Out
Falafel, cucumbers, tomato, red onion, jalapenos, spinach & tahini sauce
Chicken Caesar Salad
- Sold Out
Romaine, parmesan, croutons, house Caesar dressing; w/grilled chicken
Harvest Cobb Salad
- Sold Out
Lettuce, tomatoes, bacon, egg, avocado, apples, roasted butternut squash, gorgonzola, croutons, turkey & ham
Quinoa Salad
- Sold Out
Baby arugula, quinoa, sweet potato, grapes, craisins, chickpeas, VT Chevre & toasted almonds
Aloha Poke Bowl
- Sold Out
Fresh ahi tuna, 5 grain medley cucumber noodles, avocado, edamame, pickled ginger, radishes, scallion, spicy aioli & toasted sesame seeds; w/crispy wontons
Hot Hors d'oeuvres
3 pound/3 Dozen Minimum Order
Bite Size Veggie Egg Rolls
- Sold Out
Bite Size Veggie Egg Rolls with Mango Chili Dipping Sauce
Sundried Tomato & Parmesan Stuffed Mushroom Caps
- Sold Out
Cold Hors d'oeuvres
3 pound/3 Dozen Minimum Order
Pulled Pork Sliders
- Sold Out
Pulled Pork Sliders with slaw
Crab Cakes
- Sold Out
Crab Cakes with Spicy Tartar Sauce
Chicken Parmesan Meatballs
- Sold Out
Chicken Parmesan Meatballs with Marinara & Mozzarella
VT Chevre Stuffed Beet Meatballs
- Sold Out
VT Chevre Stuffed Beet Meatballs with cucumber yogurt sauce
Spinach & Artichoke Spread
- Sold Out
Spinach & Artichoke Spread served with sliced French Baguette
VT Cheeseburger Sliders
- Sold Out
VT Cheeseburger Sliders on mini Challah buns
Applewood Bacon Wrapped Scallops
- Sold Out
Applewood Bacon Wrapped Scallops
Bacon Blue Deviled Eggs
- Sold Out
Bacon Blue Deviled Eggs w/Roasted Garlic & Asparagus
Fruit Skewers
- Sold Out
Pineapple, honeydew, strawberries & cantaloupe w/poppyseed dressing
Hummus & Pita
- Sold Out
Hummus & Pita Our hummus with pita chips
Brie & Lobster Sliders
- Sold Out
Brie & Lobster Sliders on mini Challah buns
Antipasto Skewers
- Sold Out
Antipasto Skewers with olives, fresh mozzarella, tomato, fresh basil & salami
Platters
Small (serves 10-15), and Large (serves 20-30)
Smoked Salmon
- Sold Out
Sliced cured salmon, red onions, capers, cream cheese & pumpernickel toast points
Assorted Sandwich Sliders
- Sold Out
Choose from BLT on toasted brioche bun, Falafel on grilled Naan, Chicken Parmesan on garlic knot, Chicken salad on toasted brioche or Shrimp Salad on mini croissants
Price:
BLT, Falafel Chicken
$36 p/dozen
Price:
Shrimp Salad
$48 p/dozen
VT Cheese Platter
- Sold Out
Assorted artisan Vermont cheeses, grapes, nuts & fig tapenade, served with crackers & sliced French baguette S $80 L $150
Fiesta Trio
- Sold Out
Fiesta Trio with tortilla chips, our guacamole, salsa & bean dip
Seasonal Fresh Fruit
- Sold Out
Seasonal Fresh Fruit – Sliced melon, seasonal fruit & fresh berries
Charcuterie Board
- Sold Out
Seasonal presentation of asst, meats – salami, prosciutto, etc., crackers, jams, mustards, pretzels, pickles & fruit
Brie a la Fig
- Sold Out
Baked Brie in puff pastry with fig jam, almonds & honey served with baguette & crackers (serves 30)
Vegetable Crudité
- Sold Out
A variety of freshly cut vegetables & baby roasted potatoes, with our buttermilk ranch dip
Shrimp Cocktail
- Sold Out
Poached shrimp with cocktail sauce & lemons
Salads
Small (serves 10-15), and Large (serves 20-30)
Caesar Salad
- Sold Out
Romaine, parmesan, croutons, lemon with our Caesar Dressing
Mediterranean Salad
- Sold Out
Romaine, cucumbers, tomatoes, kalamata olives & feta with our lemon vinaigrette
Baby Arugula, Quinoa & Sweet Potato Salad
- Sold Out
Baby arugula, dried cranberries, roasted sweet potatoes, green onions & toasted almonds with our green goddess dressing
House Salad
- Sold Out
Mixed greens, carrots, peppers, cucumbers, tomatoes, red onions & croutons with our balsamic vinaigrette
Cobb Salad
- Sold Out
Mixed greens, corn, tomatoes, bacon, gorgonzola, avocado, egg, croutons, deli ham & turkey with our blue cheese dressing
Roasted Beet & VT Chevre Salad
- Sold Out
Mixed greens, roasted red & golden beets, VT maple walnuts & VT Chevre with our VT maple cider vinaigrette
All-American Potato Salad
- Sold Out
Potatoes, celery, vinegar, mustard, mayo, hard boiled eggs & parsley
Soup
$40 (serves 8-10) $65 (serves 18-25)
Clam Chowder, Tomato & White Bean Bisque or Seasonal Offerings
- Sold Out
Sweet Treats
Cookie Platter or Brownie Platter (Or Combo)
- Sold Out
Packages
« Bald Eagle » or "Golden Eagle"